<![if !supportEmptyParas]> <![endif]>
<![if !vml]> <![endif]><![if !supportEmptyParas]> <![endif]>
<![if !supportEmptyParas]> <![endif]>
<![if !supportEmptyParas]> <![endif]>
<![if !supportEmptyParas]> <![endif]>
<![if !supportEmptyParas]> <![endif]>
<![if !supportEmptyParas]> <![endif]>
<![if !supportEmptyParas]> <![endif]>
<![if !supportEmptyParas]> <![endif]>
<![if !supportEmptyParas]> <![endif]>
<![if !supportEmptyParas]> <![endif]>
<![if !supportEmptyParas]> <![endif]>
<![if !supportEmptyParas]> <![endif]>
<![if !vml]>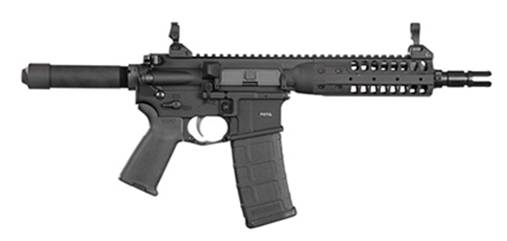 <![endif]>
<![if !supportEmptyParas]> <![endif]>
<![if !vml]>
<![endif]><![if !mso]>

<![endif]>
Our Newest Firearm today, yes it's a Hand Gun, (Pistol AR-15) with what we call an Extended Pistol Grip. The Handgun pictured above comes with a Hard Case see above, a 30rd. Magazine, a Single Point Sling, and of course our unique Trigger System. Our price for Everything above is $759.00. One can modify the Hand Gun they already have for $69.00 in stock. Give us a call, or better yet, come see us in Madison.
<![if !mso]>

<![endif]><![if !mso & !vml]> <![endif]><![if !vml]>

<![endif]><![if !vml]>
<![endif]>

<![if !supportEmptyParas]> <![endif]>

 

Product Details: Standard Pistol NPC-15 AR   $699.00
Caliber 5.56 NATO Chamber, and .300 Blackout. Available with 7.5" or 10.5" barrel
Manganese Phosphate Forged Flattop Upper Receiver. Match Grade Chrome-Molly 1:9 or 1:7 Twist (Machinegun rated) Barrel. Free Float Hand guard. Hard-coat anodized Upper and Lower. All Firearms are Head spaced and tested  in our shop insuring a trouble free firearm. This firearm is sold as a Handgun.
Our newest Coolest NPC-15 (Not Politically Correct) yet The above Firearm includes a 7" Aluminum rail system our own trigger system, a 2.5 to 3.5lb. pull Trigger, a 30rd. Magazine, a single point sling, a hard case, as we do not use a cardboard box to protect your firearm.
Substitute Chrome lined barrel                                                  $40.00  Not Recommended
Aluminum Free Float Handguard Std.                                      Included   
Our own Trigger system                                                              Included   
Include Carry Handle Assy. With A-2 sights                           $39.00
(NEW) Grip-Pod                                                                              Included   
Single Point Sling                                                                          Included
Hard Case                                                                                        Included
1- 30 rd. Non Tilt Magazine                                                          Included
For more information on accessories, please see our Parts and Accessories page.
Ammodump International LLC 1556 S. SR-53 Madison, FL. 32340 (850) 973-8880
<![if !vml]>
<![endif]>
<![if !supportEmptyParas]> <![endif]>