<![if !vml]>

<![endif]> 
<![if !supportEmptyParas]> <![endif]>
<![if !supportEmptyParas]> <![endif]>
<![if !supportEmptyParas]> <![endif]>
<![if !supportEmptyParas]> <![endif]>
<![if !supportEmptyParas]> <![endif]>
<![if !supportEmptyParas]> <![endif]>
<![if !supportEmptyParas]> <![endif]>
<![if !supportEmptyParas]> <![endif]>
<![if !supportEmptyParas]> <![endif]>
<![if !supportEmptyParas]> <![endif]>
<![if !supportEmptyParas]> <![endif]>
<![if !supportEmptyParas]> <![endif]>
<![if !vml]>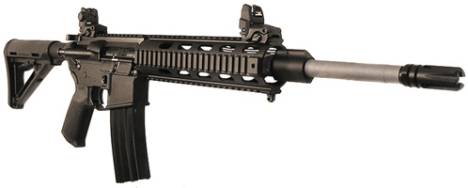 <![endif]>
Available in    .223/5.56  $899.00    6.8MM SPC $899.00  7.62X39  $899.00 .300 Blackout   $899.00    
Product Details:

 

Heavy Barrel also available in Stainless as Shown

     
Manganese Phosphate Forged Flattop Matched
 

Upper and Lower Receiver. Chrome-Moly 1:9, 1:8 and 1:7 Twist (Machinegun Rated).
CAR Stock 6 Position; Free Floating rail system, Hard coat Anodized Upper, and Lower. All Firearms are Headspaced and tested in
our shop insuring a trouble free firearm.
About the 6.8: (A few manufacturers have been contacted for pricing

 

for the 6.8 SPC. The Army has purchased several
hundred and it looks as though the 6.8 SPC is in and will be issued to special units immediately and regular units as they are ready.
With that said,
 

Police Departments have been accepting the 6.8 quite readily because of the knock down power of the 6.8 MM projectile.
The 7.62X39 "AK Round is gaining popularity as well. We at Ammodump have figured out the feeding Problem other companies
have run into, ours run flawlessly.
Through our own evaluation, we have found the 6.8 and the 7.62X39 to be most attractive because of
 

the lower recoil In an
AR type configuration. Lets face it, the .308/7.62 NATO gets somewhat brutal after 50 or more Rounds especially on Full Auto.
Not so for the 6.8 MM SPC and the 7.62X39. The wife has no problem controlling this round on Semi/Full Auto for several hundred
rounds. 80% the knock down of the .308/7.62 NATO with 20% the recoil.
Aluminum Free Floating  Rail                                                      Included   
Our own Trigger system    2 ˝ to 3 ˝ pound pull                 Included   
Single Point Sling                                                                          Included
Hard or Soft Case                                                                          Included
1- 30 rd. Non Tilt Magazine                                                          Included
Action:  Direct Gas Impingement
For more information on accessories, please see our parts and accessories page.
Ammodump International LLC.
1556 S. SR-53 Madison, FL. 32340 (850) 973-8880
<![if !vml]>

<![endif]>
<![if !supportEmptyParas]> <![endif]>